The Art of Effective Branding: Enhancing Your Business Identity with 3D Signage
Establishing a strong brand identity is critical for success in today's competitive business world. Your brand is the face of your company, and great branding may have a long-term impact on your target audience. When it comes to visually appealing and compelling brand presentations, 3D signage is the best answer. Print Media Dubai, a well-known printing firm in Dubai, specialises in 3D signage that raises your brand image, improves brand identification, and makes a lasting impact on your clients. Let's look at the art of successful branding through the lens of 3D signs and see how it may help your business.
Creating a Remarkable Brand Image:
Any successful firm relies on a strong brand image. It communicates to your target audience your values, mission, and unique selling offer. You can take your business image to new heights with 3D signage from Print Media Dubai. The three-dimensional nature of the signage provides depth and character, aesthetically compelling and remember your brand. 3D signage, whether it's your logo, motto, or another brand piece, guarantees that your business stands out in a crowded market and creates a lasting impact on clients.
Increasing Brand Recognition:
When it comes to brand awareness, consistency is everything. Customers should be able to recognise your brand whether they meet it online or offline. 3D signage plays an important part in increasing brand awareness by making your brand clearly recognisable. The vivid and dynamic character of 3D signage draws attention, quickly identifying your business from a distance. You can be certain that your brand will create a lasting impression and be remembered by your target audience thanks to Print Media Dubai's skill in designing stunning 3D designs.
Adding Aesthetic Value with Vibrant Colours and Light Effects:
Aesthetics are critical to good branding. Your brand's personality and beliefs should be reflected in your signage. With 3D signage, you can build a visual masterpiece that complements the aesthetics of your business. Print Media Dubai provides a variety of vibrant colours and light effects that may be used in your 3D signage. Whether you want bold colours that radiate energy and enthusiasm or delicate tones that reflect elegance and sophistication, their team of professionals can help you realise your vision. The interplay of colours, along with the extra dimension of light effects, results in aesthetically attractive signage that draws attention and enhances your brand's identity.
Noticeable and impossible to ignore:
In a congested marketplace, standing out from the throng is critical. 3D signage ensures that your brand is visible and cannot be ignored. The signage's three-dimensional element adds depth, making it aesthetically appealing and fascinating. 3D signage grabs attention and brings visitors to your business, whether it's displayed on a storefront, at an event, or at a trade show. It functions as a powerful magnet, compelling people to learn more about your company. You can boldly exhibit your business and leave a lasting impression on your target audience with Print Media Dubai's experience in developing visually stunning 3D signage.
Outstanding Designs That Make a Statement:
When it comes to good branding, design is crucial. Your signage should represent your brand's personality and express your narrative. Print Media Dubai recognises its significance and provides outstanding design alternatives for your 3D signs. Their talented designers collaborate with you to understand your brand's values, target audience, and goals. They will then produce specific designs that are consistent with your brand identity, ensuring that your 3D signage accurately represents your unique brand narrative. With their skill and attention to detail, you can be confident that your signage will capture the soul of your company and leave a lasting impression.
Unleashing the Customization Potential:
Every business is distinct, and your signage should reflect that. Customization is an important component of 3D signage, allowing you to build signage that genuinely symbolises your business. Print Media Dubai provides a variety of customisation possibilities, from selecting the materials to inserting particular design elements that match the aesthetics of your business. Whether you prefer a clean and modern design or a more elaborate and creative design, their staff will collaborate with you to make your idea a reality. Customization enables you to build a signage design that is suited to the personality of your company, ensuring that your brand identity is appropriately represented and creates a lasting impact on your clients.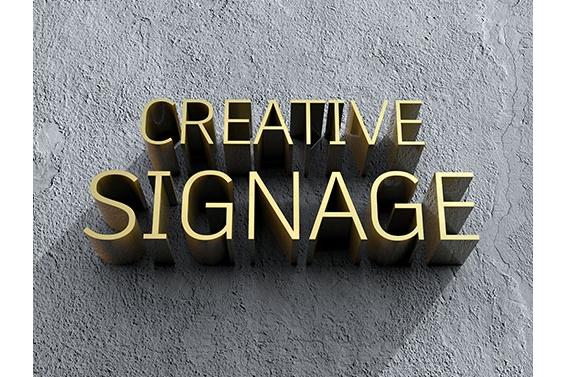 Best Quality 3D signages in Dubai
3D signage is a strong instrument for successful branding, and Print Media Dubai is your reliable partner in realising its full potential. They assist you in enhancing your business image, improving brand awareness, and generating a distinctive brand identity by utilising their skills in designing spectacular 3D signs. Print Media Dubai assures that your 3D signage becomes a compelling reflection of your business by focusing on higher aesthetics, vibrant colours, light effects, simple noticeability, exceptional designs, and personalization. Elevate your company's image and engage your audience with the art of successful branding from Print Media Dubai.